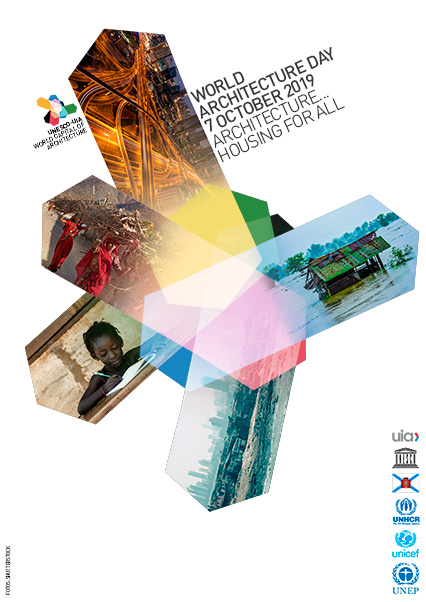 KUNDE:
UNESCO und
Untited international Architects
AUFGABE:
Wettbewerbsbeitrag
Entwicklung eines Logos und eines Plakates
für ein globales Forum zur Erörterung der drängendsten Herausforderungen unserer Welt durch die Prismen von Kultur, Erbe, Stadtplanung und Architektur durch
Architekten, Fachleute aus allen anderen verwandten Bereichen einschließlich Künstler, Schriftsteller, politische Entscheidungsträger und soziale Einrichtungen.
BESCHREIBUNG:


Logo und Plakat mit Variante
Description:
Architects, visualised as structures from
5 continents, recognisable thru the olympic colors, gather together to a collective, while introducing their different cultural perspectives through color, rotation and position.
The intersecting and overlapping
elements create new facets, colours arise
as new spaces open up to admit
the New.
On account of the urgency of the challenges, all conceivable, and especially ideas and inventions not yet even considered, will be essential to succeeding in these endeavours.
The personal creativity and agility necessary for these challenges is reflected in the transformative character of the logo and the poster design.